FAQ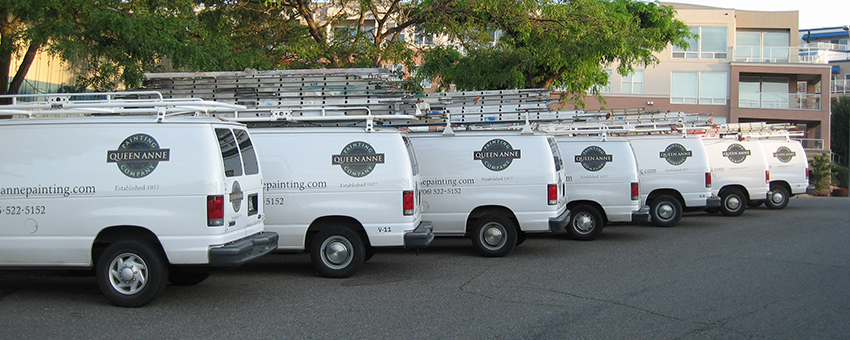 Some of the questions asked most often about our interior painting and exterior painting jobs are:
 I've had bids before, and I get prices that are high, low and all over the place. Why?
Several factors impact bid prices. These include everything from the time of year to company's unique and varying schedules and workloads. An estimator's experience, or lack thereof can also play a role. Try as one might to "compare apples to apples", we've found that the differing levels of diligence and the wide variations in approach taken by different companies can make comparisons difficult.
Generally, thoroughness takes time. Professional craftsmen are productive and efficient, but physical work simply takes time to execute. And, there's the cost of the paint and willingness to apply it full strength. You'll pay more for quality paint, but it looks better and lasts longer. We are always happy to review our calculations for your project in full detail to help you make a fair comparisons with other bids.
Our last painter would work for a few days, and then be gone for a few. Always starting and stopping. Will you stay on the job once you begin?
Yes, we will. Many companies struggle with this scheduling problem. We have the advantage of having more than a dozen crews, and so can dedicate each of them to just one job at a time. You will have the same crew on your job from start to finish!
 Who does the painting and who will supervise the job?
We use only Queen Anne Painting employees, not sub-contractors or piece workers. And, because our reputation is extremely important to us, all employees have passed drug screens and detailed criminal background checks. And we're a good place to work. We believe that "one hand washes the other". We have good pay and benefits, because happy employees do their best work! That's also why our tenure is good and we have so many long-time employees.
And, continuity is a key to consistently high performance. Each job is a signed to a trained crew leader who will be on-site and run your job from start to finish, all with the support of your estimator, who becomes your project manager once the job is underway.
Do you have references?
We invite you to read the many reviews our customers have posted on sites such as Google, Yelp, Angie's List and Porch. And, additional references are always available upon request.
 What kind of paint do you use?
We use Benjamin Moore and Sherwin Williams paints about 90% of the time. However, the brand of paint we use is also influenced customer preference and special project requirements. We're transparent in the selection process and, whichever brand of paint is selected, we'll use their highest grades because the best paint provides the best results.
 Are your painters bonded?
Queen Anne Painting Co., Inc. is a registered contractor in the State of Washington (Registration #QUEENAP099KF) and bonded in accordance with the laws in Washington State. We carry both General Liability and Worker's Compensation insurance policies. Don't expose yourself to the many risks of hiring a non-registered contractor. Contractor registration may be verified on the web at www.lni.wa.gov, or by calling the Washington State Department of Labor and Industries at: (800) 647-0982, ext. 3.
 You're a painting company, but I hear you do carpentry and wall repair?
Yes, it's true. Though our core business is interior and exterior painting, we actually began (nearly 40 years ago!) both painting and remodeling. And, we've had a full-time staff of professional carpenters and wall repair experts for over 10 years. We offer the convenience of "one stop shopping" which can save you the time, money and hassle of having to schedule multiple contractors.
What's the difference between a good paint job, and a bad one?
A good paint job requires an organized approach that includes the necessary preparation, the correct painting technique, and the appropriate tools and materials. However, all of the skill in the world is useless without adequate time to complete the project. We will honestly advise you about the amount of time needed to properly complete your job. A bad job is often a result of job being underbid and rushed, or performed by inexperienced and untrained crews.
 Do you warranty your exterior paint jobs?
Absolutely, we provide a three-year labor and material warranty including complimentary maintenance inspections on most exterior work.
 Why are you called Queen Anne Painting when you're not located up on Queen Anne Hill?
Great question, we get asked this all the time. We were located on Queen Anne Hill in the late 1970's when we started the business and adopted the name. Although our office has since changed locations, we've kept Queen Anne Painting because of the great reputation and name recognition we've establish over nearly 40 years. We work throughout the greater Seattle area and the Eastside.